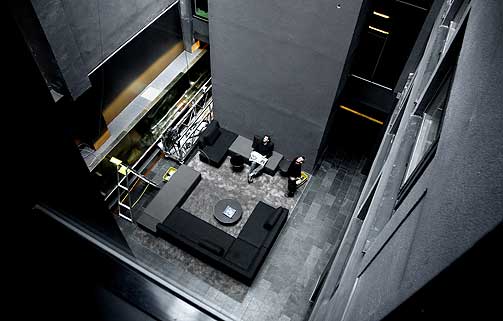 Finally Norway has gotten its first design-hotel!
Grims Grenkas
, as it's called, is located in the heart of Oslo, and although it's not quite finished yet, it seem to be receiving great reviwes. The hotel has 42 large rooms and 24 suites, many of the larger than 70 square metres. The style is minimal, with beds from
Jensen
and electronics from
Bang & Olufsen
. So it is fair to say that it´s staying true to the Scandinavian style, although the design its not blowing me away... Dont get me wrong, it is nice, but maybe a bit to traditional? Aren't design hotels suppose to be something new, an adventure to visit?

Grims Grenka is supposed to have the most spectacular rooftop of Oslo where you find Q-Lounge. The hotel can also entice with the modern Asian restaurant Maude and the hot new club Ghost.

Via Dagbladet.no